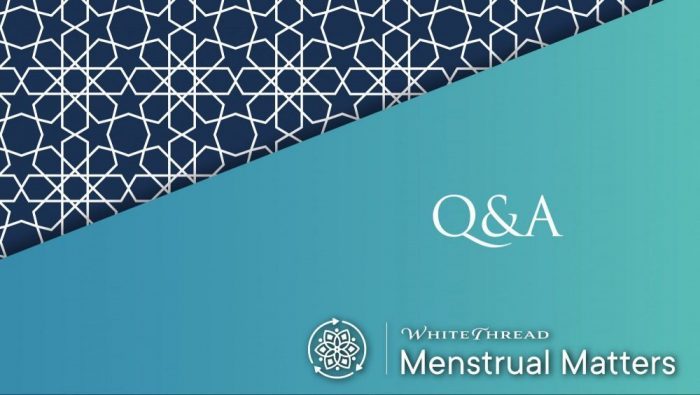 Salaam. I got my period on the first of Ramadan. Normally, I do ghusl on the 10th day because I have brown mucous towards the end of my cycle which lingers. This time, It lasted about 7 days and my mucous was yellow so I took a shower and started fasting. I fasted the 8th, 9th and 10th day and around Isha time on the 10th day I noticed scant brown mucous on my underwear. Should I do ghusl? If I do, the other complicating factor is I got an allergy patch test on my back which I have to keep dry for another 24 hrs so I was medically told not to take a shower or get it wet. What should I do? Can I just resume praying/fasting without doing ghusl and just assume it is bleeding due to medical condition? Please advise soon as I need to know if I should pray and fast tomorrow. JazakAllah Khair.
Answer
In the name of Allah, the Inspirer of truth
The maximum time allotted for menstruation (hayd) is 240 hours (ten days and nights). If your bleeding/spotting did not exceed 240 hours and is followed by a complete purity of at least 15 days, all of the bleeding/spotting will be hayd. Any coloured discharge seen in the possible days of hayd is considered hayd.
However, if the bleeding/spotting exceeds 240 hours or is followed by a purity less than 15 days, you must refer to your hayd and purity habits to retrospectively determine which days are hayd and irregular bleeding (istihada).
With regards to taking a ritual bath (ghusl), it is necessary for water to reach every party of the body, including the mouth and nasal passage. Due to your injury, you can cover that particular area to prevent it from getting wet, and simply wash the rest of the body.
And Allah knows best.