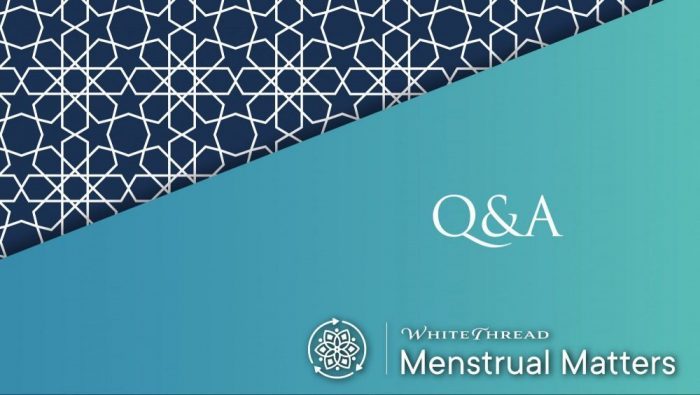 Do I Qualify as an Excused Person
Salaam, I get discharge when I'm ovulating, this discharge is completely transparent/see through which is continuous for the time I'm ovulating which can be a few days. In regards to a kursuf/tissue/cotton wool etc I can't place anything in or between the folds due to reactions I end up with from doing that in the times I've had to. I react to this. I wanted to ask what's the ruling on this for when I need to pray salaah and pray the quraan ? An example is when I've used the bathroom, it's there too, I have to clean it all off and do istinjaa few times but as soon as I've dried it's clear stringy cervical mucus exiting from the cervix is felt during wudhu too.
Answer
In the name of Allah, the Inspirer of truth
As you know any discharge that exits the vaginal opening, whether clear, yellow, or white will nullify one's ablution (wudu). It is important to note that the colour is considered when the discharge is fresh, and not after oxidation.
In your situation where you are unable to block the discharge due to adverse reactions, falling in the category of an excused person (ma'dhur) would ease your difficulty.
Once a person qualifies as a ma'dhur, wudu is made at the beginning of every prayer time with which the person can carry out any act of worship for the duration of that respective salat time. At the end of the prayer, wudu is nullified and will need to be renewed for the next salat time.
There are three steps involved regarding the ma'dhur:
To qualify as a ma'dhur, the excuse (in your case, the discharge) must remain present for one complete prayer time, such that a person is not able to perform the four fard acts of wudu and a fard salat without its occurrence.
Once the excuse has been established, to remain a ma'dhur, the excuse need only occur once in each subsequent prayer time.
The person ceases to be a ma'dhur when a complete salat time passes without the excuse occurring even once.
This article explains it very well with examples and further rulings applicable to a ma'dhur.
And Allah knows best.