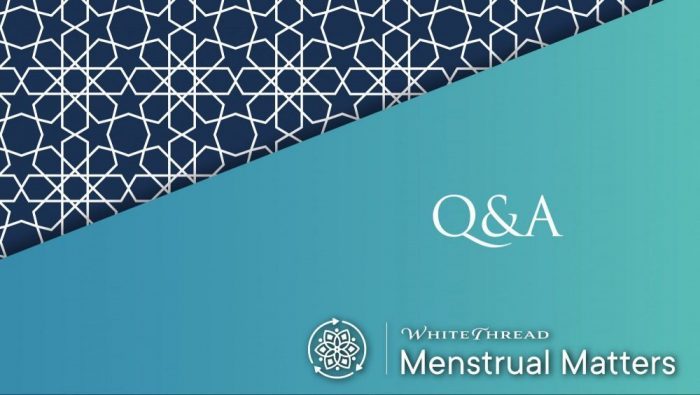 Insufficient Purity & Habit
Since feb 11th I didn't have a period then on the 26th of March until midday 27th March I had a light period and then on 30th March I had a spotting and now on 8th April I had a spotting after which I started flowing heavily from 10th April…do I class this as period or istihaaza? I can't remember exact days but gathering from messages I find that prior to this period I had a period 24th nov – 2nd dec
4th jan – 10th jan , 1st feb – 11th feb
Answer
In the name of Allah, the Inspirer of truth
From the dates you have provided, we have calculated your bleeding and purity as follows:
Dates
Bleeding 
Subsequent Purity 

24th November – 2nd December

8b

33p

 8 days

hayd,

33 days purity 

4th January – 10th January 

6b 

22p

 6 days

hayd,

22 days purity

1st February – 11th February 

10b 

43p 

 10 days

hayd,

43 days purity

26th March – 27th March 

1b 

3p

Insufficient purity

30th March 

1b 

9p

Insufficient purity

8th April 

1b 

2p 

Insufficient purity

10th April onwards 

Bleeding 
Each time you have an insufficient purity of less than 15 days, the bleeding before and after the purity will be joined together to form one set of bleeding. During continuous bleeding, a woman's last valid habit in menstruation (hayd) and purity (tuhr) will be applied. The menstruation habit will be applied from the beginning of the continuous bleeding followed by the purity habit.
Based on the dates provided, March 26th until present is continuous bleeding. Your habit is 10 days in hayd and 43 days in purity; you will continue to apply this habit until you see a valid purity of at least 15 days.
26th March – 5th April = 10 days Hayd
5th April – Present = Istihada
If the bleeding or spotting continues without 15 days of purity between each instance of blood, you will remain in purity until 18th May. Any salat missed during the days of istihada must be made up. 
And Allah knows best.