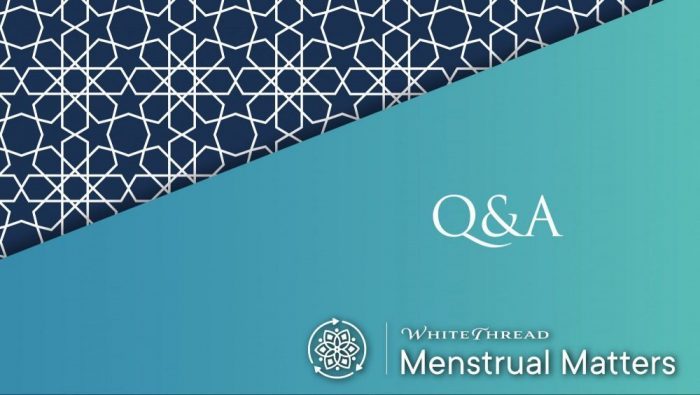 Irregular Bleeding Due to IUD
Assalaamoalaikum

Please can I ask you some advice regarding bleeding pattern and praying with an intrauterine coil that is releasing a hormone. I have looked through the questions already asked and haven't found the answer to my query. Please forgive me if this has already been answered.

I've had a coil in place for over a year and gradually over that year my periods have reduced in duration (it containsa hormone and this reduction is bleeding was expected). Before this my bleeding pattern was 7-10days bleeding and average 25-28day cycle.

Currently each month I get the feeling of a period (pelvic pains and back ache) but only very minimal loss on one occasion – it can be a dark red or light pink single spot on one occasion.

On this occasion the spot was at 7am 12th April. And i have had white discharge since then.

I am unsure how to act in terms of praying and fasting now after this spot of blood yesterday. Please advise me on this firstly.

My periods have been lighter like this and lasting 1-2 days since June 2020:
12.6.20
18.7.20
13.8.20
30.8.20
7.10.20
5.11.20
28.11.20
23.12.20
16.1.21
14.2.21
8.3.21
11.4.21

I did not pray for 3 days as I was expecting more bleeding and on some occasions there was a spot of blood on day 3.

Secondly please also advise me whether I should make up for the prayers I have missed on these dates since June 2020, as I am very worried that I have missed them incorrectly.
Answer
In the name of Allah, the Inspirer of truth
First, we would like to commend you for keeping such an accurate and detailed record. Women are often negligent in tracking their bleeding and purity, which makes it difficult to determine their habit.
The minimum duration of menstruation (hayd) is 72 hours (three days and nights) and the maximum is 240 hours (ten days and nights). According to the dates you provided, you experienced one day of coloured discharge (brown/pink) each month. These instances were less than 72 hours and will be considered irregular bleeding (istihada). Any prayers that were not completed in these days must be made up (qada). You have not provided the dates for those occasions you had bleeding on the 3rd day. If it was cumulatively less than 72 hours, it will be istihada; otherwise, it will be hayd.
Lastly, you mentioned that at times you waited for three days to pass because you expected more bleeding. When bleeding is intermittent, you should not wait to pray. Rather, you evaluate the obligation of each prayer. If you do not see any bleeding/spotting in a prayer time, you offer that particular prayer. You can delay the prayer until the end of the recommended time in case the bleeding returns.
And Allah knows best.