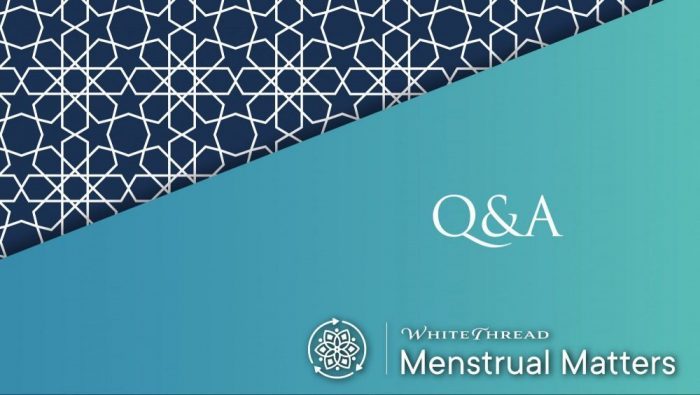 Irregular Bleeding Case Study
assalamu alaikum, my question is regarding some irregular bleeding i have been getting over the past month. My periods come regularly, my last period started on Feb 11th-16th, i started bleeding again on Feb 25th-March 2nd, i then had brown discharge like blood from March 9th-13th, and am currently bleeding again from March 19th-present.
Besides the brown discharge the rest have all been red blood, also the current bleed also feels more like a period. So my question is which of these dates are period and which are istihaadha?
This is my first ever irregular bleed my previous cycles are: Dec 2020: 16th-24th,
Jan 13th-23rd and Feb 11th-16th.
Jazakallah for setting up this page.
Answer
In the name of Allah, the Inspirer of truth
Each time you have an insufficient purity of less than 15 days, the bleeding before and after the purity will be joined together to form one set of bleeding. The menstruation (hayd) habit will be applied from the beginning of the continuous bleeding followed by the purity habit.
From the dates you have provided, we have calculated your bleeding and purity days as follows:
 
Bleeding
Subsequent Purity
Comments
16th Dec – 24th Dec 2020
8b
20p
13th Jan – 23rd Jan 2021
10b
19p
Shorter purity followed by early bleeding
11th Feb – 16th Feb
5b (early blood)

1b invalid blood (istihada)

The next ten days will be counted as hayd

9p

Insufficient purity

Start of continuous bleeding

25th Feb – 2nd March
5b
7p
9th March – 13th March
4b
6p
19th march onwards
Continuous bleeding
From 11th Feb until present will be regarded as continuous bleeding. In continuous bleeding, your last valid habit in hayd and purity will apply.
According to the dates you have provided, your habit is: 10 hayd and 20 purity (10b/20p)
You will continue to apply this habit until you see a valid purity of at least 15 days. Otherwise, if the bleeding continues, your next hayd is due 13th – 23rd April.
If you have not already applied your habit accordingly, you may need to make up any prayers missed during the days which have now been determined as istihada.
And Allah knows best.