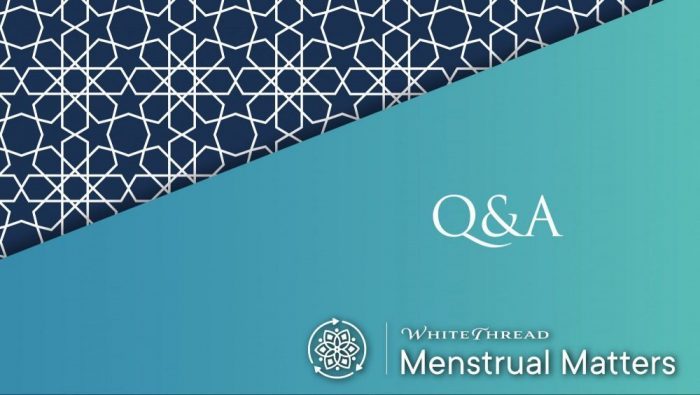 Praying with Irregular Bleeding
السَلَامُ عَلَيْكُمْ وَ رَحْمَةُ اللهِ وَ بَرَكَاتُهُُ
﷽

1) When bleeding is istihadhaa new wudhu has to be done for each salaah. Can one pray qur'an with that same wudhu even if other work is done (after praying salaah) and then qur'an is read if one has not broken the wudhu? (And it is still the same salaah time, next salaah has not started)

2) When bleeding is istihadhaa does one have to wear a khusruf whilst praying qur'an also (as well as salaah) or will it suffice if she doesn't (because of irritation)?

3) If tissue is used as a khusruf is that ok as long as the discharge/blood does not seep right through and be seen on pantyliner?

4) One fasted and prayed her fardh salaah (only) whilst bleeding started 5 days early, thinking it is not period (due to pattern) but later found out that it could be period as early bleeding days and regular period days(habit of 5 days) add up to 10 days. So she stops fasting and praying her salaah but then she bleeds over 10 days. Will she have to repeat the first few fasts and fardh salaah that she prayed (when thinking it is not period)?
Answer
In the name of Allah, the Inspirer of truth
If a person qualifies as an excused person (ma'dhur) due to irregular bleeding (istihada), their ablution (wudu) will remain valid as long as it is not invalidated by another nullifier of wudu. Any number of ritual prayers (salat) can be performed and similarly, the Qur'an can be touched. The wudu will remain intact until the salat time ends or some other act nullifies it.
Please note that it is not a given that istihada will render someone a ma'dhur. A person is considered ma'dhur when the excuse continues for one full salat time, such that there is not sufficient time free from bleeding to perform wudu and offer salat with purity. If a person is not a ma'dhur, their wudu will be invalidated with each instance of bleeding.
During istihada, it is recommended to stop the blood from exiting if possible. A woman can place a piece of cotton (kursuf) in the vaginal opening. However, this is not a requirement. If a person chooses not to do this and is able to maintain purity throughout their prayer, their salat will be valid.
If a tissue is used as a kursuf, wudu will remain valid as long as the outer portion of the tissue remains dry and unstained. As soon as the outer portion becomes wet or stained, wudu is nullified.
Her bleeding exceeded 10 days; we must refer to her habit in menstruation (hayd) and purity to determine which days are hayd. In the case mentioned, it seems the first 5 days were before her place of habit and will be istihada. Any fasts or salat during these days are retrospectively valid and will not have to be repeated.
And Allah knows best.